Independent Order Of Odd Fellows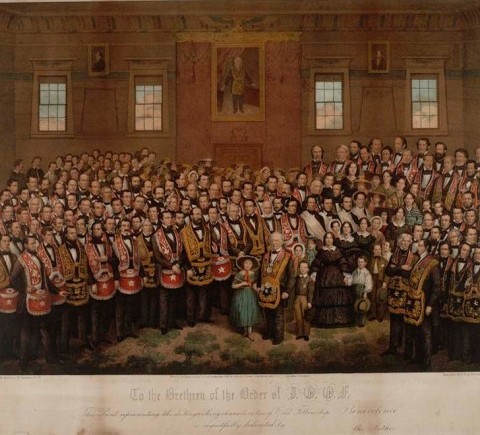 Greetings,
Welcome to the website for the jurisdiction of Virginia. As Grand Master this year, I am pleased that Odd Fellowship is growing throughout our state. We have lodges scattered across the Old Dominion to carry out the tenants of our Order.
The commands of the Independent Order of Odd Fellows are to "visit the sick, relieve the distressed, bury the dead and educate the orphan". The purpose of Odd Fellowship is to improve and elevate the character of mankind by promoting the principles of friendship, love, truth, faith, hope, charity and universal justice.
We invite you to learn more about the Independent Order of Odd Fellows fraternal order. Our international headquarters are located in Winston Salem, NC. Our fraternal order is in 26 countries throughout the world. Information is available on the international website at
IOOF.org
In Virginia, contact our Grand Secretary for information about a lodge near you. Our members are working hard to meet the needs in their communities during these difficult times.
In Friendship, Love and Truth,
Stephen W. Taylor
Grand Master, Grand Lodge of Virginia
the virginia odd fellow

story
The Odd Fellows began their journey in Virginia on May 4th, 1833 with the establishment of Virginia Lodge #1 in Harpers Ferry, Virginia. At that time there was not a Grand Lodge of Virginia yet, so this lodge was under the jurisdiction of the Grand Lodge of the United States (now referred to as the Sovereign Grand Lodge) for the first few years. On May 17th, 1837, the Grand Lodge of Virginia was formally established and took jurisdiction over all lodges within Virginia. In 1863, when West Virginia became the 35th state, Virginia Lodge #1 and some others fell under the jurisdiction of the new Grand Lodge of West Virginia. The Lodge voted to keep its name and is still active today! Over the course of the 188 years of Odd Fellowship in Virginia, there have been 425 Odd Fellow Lodges instituted. As of January 2021, there are 30 Odd Fellows lodges, 16 Rebekah lodges, 7 Encampments, 5 Cantons, and 2 LAPM Auxiliaries in Virginia.